COVID-19 has brought huge challenges and changes to all our lives. In the context of COVID 19, all children and young people have experienced unexpected transitions with school closure and extended time at home. In September our children can expect to return to a school which looks quite different from that experienced previously. We know there are so many online resources to help you support your child as they start back in school. The problem is finding the time to search for them! To help you, we have collected as many of the high quality resources that would could find and put them in one place.
Check out some tips below, developed by local Limerick services, on how to support your child's transition. back to school (Click on the text beneath the image). These tip sheets expand on the information provided by the flyer above.
Starting Back to School
Starting Back to School Bed Routines from the Sleep Foundation offers three helpful tips to parents. If your child's bedtime routine during the summer has slipped with staying up late and sleeping in late, it's never too late to get your child's bedtime routine back on track. You want your child on a routine early because when the first day of classes rolls around, kids' bodies (and minds) won't magically adjust to the shift in timing. To set kids up for school success, parents need to re-establish bedtime routines a couple of weeks before classes start. Check out the link for more information.
MakeAStart.ie are running a campaign which offers helpful tips and supports on developing sleep routines, as well information on how healthy eating is linked to healthy sleep.
Healthy Lunchboxes is a handy tip sheet from Safefood Ireland that offers practical tips for you and your children on how to prepare a healthy lunchbox.
As schools set to reopen Barnardos has collated a collection of tips for children, young people, and parents on how best to prepare for this transition. You can access each tip sheet below. The Tips for Parents Preparing for Back to School supports parents in talking and engaging with your children about returning to school and also to support your own self-care. Tips sheets for children and for young people on how to prepare for their return to school are also helpful.
Webwise is the Irish Internet Safety Awareness Centre. Webwise develop and disseminate resources that help teachers integrate internet safety into teaching and learning in their schools. They also provide information, advice, and tools to parents to support their engagement in their children's online lives. The video above offers helpful guidance on how to manage your child's screentime.
Jigsaw have developed a section for parents and guardians on their website the provides information created by Jigsaw Clinicians about how to best support young people's mental health, and ensure they are equipped to deal with all of life's challenges.
Transitioning Back to School Webinar Webinar - Part One | ISPCC Childline
Transitioning Back to School Webinar Webinar - Part Two | ISPCC Childline
The Covid-19 World Service have created video messages in 30+ languages for parents of children returning to school. These videos arevoiced by education professionals including teachers and SNAs working in Ireland and the messaging has been approved by the Irish College of GPs. Back To School information videos will be very helpful for those working with families whose may have difficulty engaging with schools or other services in English. These video are in addition to public health videos voiced by doctors in over 30 languages produced earlier this year.
The Fostering Network has a great blog post that offers foster carers suggestions on how to smooth the return to school for children and young people in foster care.
Children Starting or Returning to Early Years
Moving from Early Years to Primary School
Transition from Preschool to Primary School - National Parents Council
Transition from Preschool to Primary School

Due to Covid-19 we are unable to continue with the delivery of the parent programme supporting transitions from pre-school to primary school around the country as we had planned. However, we still feel that it is important that we support parents to prepare themselves and their children for this transition so we have developed a short video with some of the key information from the programme which is available here. If you have any questions please contact one of our helpline officers at helpline@npc.ie who will be happy to assist you.

Posted by National Parents Council Primary on Thursday, May 7, 2020
Moving from Primary School to Post-Primary School
Resources for Parents of Children with Additional Needs
This video from the Middletown Centre looks at packing a school bag. Many young people with autism experience difficulties with executive functioning, meaning that they find organisation tasks challenging. In this video parents and professionals will be shown some practical strategies for teaching an autistic young person how to pack their school bag, using visual supports. In addition to developing independence skills, teaching and practising this skill over the summer can also help prepare the young person with their transition back to school.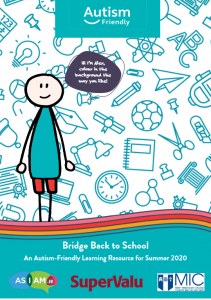 Bridge Back to School learning resource has been developed by AsIAm to help those with high support needs prepare to return to school in September
The Managing Change resource was created by the Middletown Centre for Autism to support and advise autistic people, parents and professionals in facilitating children and young people with autism to navigate changes experienced as a result of returning to the new normal post COVID -19 lockdown. It draws on evidence-based practice and aims to assist during this period of uncertainty. There is a section on Returning to School as part of the resource.
Tusla Education Support Services have developed a series of frequently asked questions which may be of use to parents. In the event of any further questions arise parents should contact their school in the first instance or their local TESS office.
In general, if a student is medically certified as being at Very High Risk then they are excused from attending school and where they are engaged in remote learning provided by the school, they shall be marked present in the roll book.
All other categories of non-attendance at school will be marked absent on the roll book as per usual, without exception. This includes students who are NOT deemed to be in the Very High Risk category and may be engaging in remote learning. .

Parents Centre is a Government of Ireland initiative that brings together new and existing resources that parents may find helpful. It provides a starting point to access high-quality, trusted information and support. Parents Centre is easy to navigate and helps parents access the information and support they need quickly. It is continuously updated as new resources become available.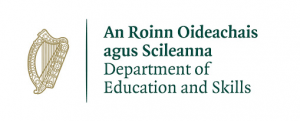 Back to School is a Government of Ireland website maintained by the Department of Education. It provides the latest information on the roadmap for the full return to school and detailed plans for the reopening of primary, post-primary and special schools. Below are a series of four videos developed by the Department of Education the offer importance advice to different age-groups returning to school.

Let's Get Ready is a government-led website the offers guidance as children prepare to return to early learning and childcare services or make the move to pre-school and school for the first time. This site offer parents guidance on a number of actions they can take at home to support these important transitions.
Let's Get Ready for Return to Pre-school, Creche and Childminders
Back To School Advice for Parents
Back To School Advice for Junior Infants to Second Class
Back To School Advice for 3rd Class to 6th Class
Back To School Advice for Post-Primary Students